Shipping for FL, GA & AL available Sept - April! >>> For More Info Check 'Shipping' under Delivery Options!
Whole Beef Order - Deposit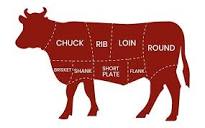 1 whole beef deposit | 1 whole beef deposit = $600.00 + $0.00 Assembly
An order for a whole beef requires a $600 deposit. The final cost (less the deposit) will be calculated according to the carcass weight at $5/lb. (Organ meat, bones and fat are not included, but may be purchased separately.)

As the buyer, you will have the opportunity to provide the cut instructions directly to the processor. You will be responsible for the full cost of processing and the pick up of your beef at the processor. Your beef will be cut as you requested, vacuum sealed and frozen. Processing cost estimate is $1.38/lb based upon the carcass weight and you will pay the processor directly.

Our animals are processed at Towson's Cold Storage, 301 Ridge Ave South, Tifton, Ga. Towson's is USDA inspected and Animal Welfare Approved. If you order, please select one of the dates for Towson's as your pick up location. If interested, call us with any questions and to discuss timing. 850.212.5816

🚗 Please Note: The delivery date is our scheduled processing date --- NOT your pickup date. You may expect to pick up your beef at Towson's Cold Storage approximately 3 weeks following our scheduled processing date.
Website and Online Farm Store Powered By
Eat From Farms