Shipping for FL, GA & AL available Sept - April! >>> For More Info Check 'Shipping' under Delivery Options!
Rump Roast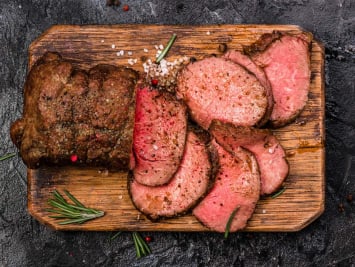 1 roast | Approx 3 lbs @ $11.50/lbs = $34.50 + $0.00 Assembly
This is an extremely versatile roast, lean throughout with a thin fat cap that melts into the meat for self basting. For fall apart roast beef, cook it slow in a crock pot for 8 - 10 hours with red wine, carrots, potatoes, and celery. For sliced roast beef, rub the roast with a mixture of salt, pepper and thyme. Sear quickly on all sides in a hot cast iron pan then roast in the over at 250-275 degrees until the internal temperature reaches 125F for medium rare or 130F for medium. Let it rest for 10-15 minutes before slicing. (You will be charged based upon actual weight at checkout.)
We are proud to label ALL our beef as Animal Welfare Approved & Grassfed Certified by AGreenerWorld.org. We never use any artificial hormones or antibiotics in our beef.
Website and Online Farm Store Powered By
Eat From Farms