Shipping for FL, GA & AL available Oct - April! >>> For More Info Check 'Shipping' under Delivery Options!
Petite Tender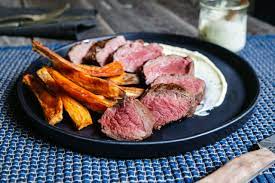 1 pkg | Approx 1.5 lb @ $22.00/lb = $33.00 + $0.00 Assembly
1 pkg | Approx 1.75 lb @ $22.00/lb = $38.50 + $0.00 Assembly
The (boneless) Petite Tender, Bistro Filet, or Shoulder Petite Tender is a small, lean cut that's nearly like a mini tenderloin. It's a relatively rare steak to find in stores because it takes a butcher more time and skill to cut this beefy steak. It cooks quickly, evenly and presents beautifully when sliced for serving. Cook as a small tenderloin roast or cut cross-wise into filet-style steaks!
(You will be charged by actual weight after your order has been assembled.)

We are proud to label ALL our beef Animal Welfare Approved & Grassfed Certified by AGreenerWorld.org.
Website and Online Farm Store Powered By
Eat From Farms