Shipping for FL, GA & AL available Sept - April! >>> For More Info Check 'Shipping' under Delivery Options!
Chuck Eye Steak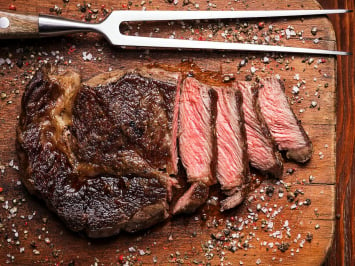 1 steak | Approx 0.35 lb @ $15.00/lb = $5.25 + $0.00 Assembly
1 steak | Approx 0.5 lb @ $15.00/lb = $7.50 + $0.00 Assembly
This steak is often referred to as the "Ribeye's little brother." Ribeyes come from the 6th to 12th ribs; butchers cut the chuck eye from the 5th rib. The proximity means the chuck eye steak shares many of the characteristics of the ribeye, but it is much smaller. After pan searing or grilling, top with a pat of butter, some fresh herbs, and fresh cracked sea salt and black pepper for an incredible meal. (You will be charged based upon actual weight after your order has been assembled.)

We are proud to label all our beef as Animal Welfare Approved & Grassfed Certified by AGreenerWorld.org. No artificial hormones, steroids or antibiotics in our beef.

Website and Online Farm Store Powered By
Eat From Farms